Welcome to the AASL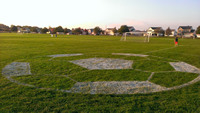 Welcome to the site of the American Amateur Soccer League (AASL).
AASL is a proud member of the Ohio North Youth Soccer Association (Ohio North). The mission of the AASL is to provide competitive leagues and innovative soccer programs to Northern Ohio.
Joining our High School Summer League is the *New* Tikes N Spikes program, which is designed to provide instruction for skill development for 3 to 6 year olds. Follow us at @tikes_n_spikes for program updates.
The mission of the Tykes N Spikes program is to create a fun and innovative program which the tikes learn from knowledgeable and friendly coaches to develop their Little Steps into Big STEPS:
Starting
Tikes
Early on
Path to
Success
AASL Summer High School League
The AASL offers organized matches for boys and girls at the high school level during the summer months of June and July. The AASL High School Summer league is open to teams from any high school
For additional information see below and/or contact the AASL High SchoolLeague Commissioner, Wayne Wilson: 330.273.1202 or waynekwilson@earthlink.net