Welcome to the AASL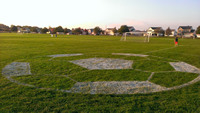 Welcome to the site of the American Amateur Soccer League. The AASL is a community-based, competitive youth travel soccer league serving forty communities in the northern half of Ohio. Communities range from as far west as Sandusky, east to Mentor and south to Wooster. Last season over 3,700 players and coaches registered to play on 235 teams.
AASL is a proud member of the Ohio Youth Soccer Association - North (OYSA-N)
2014 AASL High School League (Boys and Girls)
This year the AASL Summer High School League will have both a Boys and Girls Division.
The meetings are held at Tri C West at 6:30 PM.
The meeting dates for 2014 are as follows:
Tuesday May 6 Upper Cafeteria
Tuesday May 20 Upper Cafeteria
Tuesday May June 3 SE parking lot to give out final schedules and pick up t-shirts
Please visit the High School League section on this website for further information.
Spring Registration for 2014 opens February 1st
Registration fees for new members and Players transferring from another league or community are $14.00 per member. All dropped from a community or transferred players from one community to another community must complete player status form. The form must be included in the registration packets along with the AASL age verification/certification/Residency/Requirement and concussion appliance sign off form
ALL registration Fees must be included at the time of Registration. Registration will not be processed or returned until all fees are paid.
Registration may be turned into Tina Marianut at the February 24th meeting or must be mailed in, delievered prior to or on March 24th to be eligible to participate in the first game of the spring
Please login and go to registration page to get address for Tina Marianut.
Thank you.

Return to Play Law 143
Ohio Law 143 or the Return-To-Play Law will go into effect on April 26,2013. Ohio Gov. John R. Kasich signed the state's new youth concussion rules into law after passage by legislators. The law requires youth coaches, officials and referees to complete free, basic online training about concussions.All coaches (including assistants) and referees are required to take the online concussion course before April 26, 2013. At the present time only the National Federation of State High School Associations (NFHS) certificate will be accepted by AASL until faults in the Center for Disease Control system are fixed. NFHS online training course requires the applicant to view the entire training video before obtaining a certificate. NFHS course (http://www.nfhslearn.com/electiveDetail.aspx?courseID=38000) will give the AASL and OYSAN the ability to verify the certificate when necessary. The NFHS online training video is free and requires very little time to complete.

for more information:

http://www.oysan.org/For_Coaches/Concussion_Training.htm

http://www.healthyohioprogram.org/concussion.aspx