Welcome to the AASL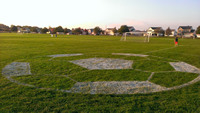 Welcome to the site of the American Amateur Soccer League. The AASL is a community-based, competitive youth travel soccer league serving forty communities in the northern half of Ohio. Communities range from as far west as Sandusky, east to Mentor and south to Mansfield . Last season over 4500 players and coaches registered to play on 400 teams.
AASL is a proud member of the Ohio Youth Soccer Association - North (OYSA-N)
AASL / GAASA Indoor League
The GAASA & AASL have entered into an agreement with Pinnacle Soccer to sponsor two sessions of indoor play at their facility. The intent of this endeavor is to provide our members, and others if they wish to participate, with a reasonable consistency in play during the winter since many times there is a disparity in the teams as facilities generally accept whoever signs up in their effort to fill their time.
o We are also including a HS division for those clubs/teams looking for a place to play. Currently the boys will be scheduled for Monday evening with the girls playing either on Saturday or Sunday (the day to be worked out once all applications are in.
o Please note that clubs who have three or more of their teams sign up receive a $25 discount on the fee.
o Additionally and while the "supply" lasts Pinnacle will give one hour of free practice prior to the start of the first session, a $175 value (the cost to rent a field).
I hope you will promote and support this endeavor.